We started the year 2022 with 15+ customers, two market-ready products (Distance Matrix and Direction APIs) and a long list of new year's resolutions.
The top-level goals we had set for ourselves based on some of the biggest lessons learned in 2020 and 2021 were:
Grow the customer base by 6x
Add more products to our portfolio
Increase active users
Invest in customer success
With these goals in mind, we drilled down on growth, stability and expansion. This was not easy.
We widened our product portfolio, expanded our global team, diversified our partner ecosystem, broadened our customer base, created a strong brand identity and bagged top awards.
We also failed at a few things and discovered valuable insights.
Here's what happened in 2022.
Increased customer base by 10X
For those keeping track, we wanted to increase our customer base by 6x. But we increased it by 10x in 2022 across 20 countries by doubling down on building our demand generation and growth engines.
We registered strong growth momentum in North America, Asia and major regions of Europe.
Faster go-to-market + innovative imitation became a reality
We continued to create products that are easy to use, integrate, deploy, manage and maintain. Built for API-first architecture, the products we launched this year helped our customers set up their full-scale mapping capabilities.
Businesses from a wide range of industries used a mix of our standard mapping APIs (e.g., MVRP Optimization API), management APIs (e.g., Geofencing API) and mapping tools (e.g., Road Restriction Tool) to create their own custom mapping solutions.
We released a host of APIs, SDKs, tools and solutions
100+ scaling companies built customizable mapping stacks with us
Besides working with some of the biggest global companies, this year we also got the opportunity to work with a lot of young MSMEs who came with complex business problems and needs.
We helped companies across the globe solve unique use cases.
We created significant value for customers.
Our APIs, tools and solutions enabled our customers — from pest management to waste management, from first-mile trucking to last-mile retail — to scale up successfully. We helped:
We hit a significant funding milestone
We were able to defy all odds and succeed in the relatively unexplored enterprise mapping space because of our investors' faith and support.
In 2022, NextBillion.ai raised $21 million in a Series B funding round led by global investment firm Mirae Asset Capital, with participation from FounderBank Capital, CSVE Ventures and a few notable angel investors. Our existing investors, Lightspeed, Alpha Wave and M12, also participated in this round.
This capital infusion further cemented our position as one of the biggest disruptors shaping the mapping and location platform market.
Partnerships maximized our product benefits
To offer better solutions to our customers, we strategically partnered with selected geospatial technology companies this year. We worked with our partners to sketch out specific goals, customer use cases and product offerings for each collaboration.
Companies that joined NextBillion.ai's partner network in 2022:
Otonomo, a smart mobility data platform that offers connected vehicle data and transportation intelligence
RouteQ, an AI-driven solution for route planning and a subsidiary of Yandex
Locale.ai, a map-based visualization company that combines open data and consumer data to power business operations
Dista, a location intelligence platform for sales, field service and delivery
GeoJunxion, the leading low emission zones and restricted traffic areas data provider
L&T, a premier infrastructure developer and global system integrator
MapTiler, a map tile rendering platform designed for creating customized and interactive digital maps
WhereIsMyTransport, a trusted source of mobility and location data for emerging markets
The geospatial community kept us busy

In 2022, we continued to host and meet builders, thinkers and leaders of the location technology industry.
We hosted our first in-person event — a panel discussion with Southeast Asia's leading on-demand platform and our customer, Gojek, in Singapore.
This year's lineup for our Spatial Insider webinar series included leaders from Swiggy, Maptiler, Locale.ai, Geospatial World, WhereIsMyTransport and project44
.
NextBillion.ai's solution engineers presented technical webinars on dynamic geofences, Distance Matrix API, no-code application development and mapping platform migration.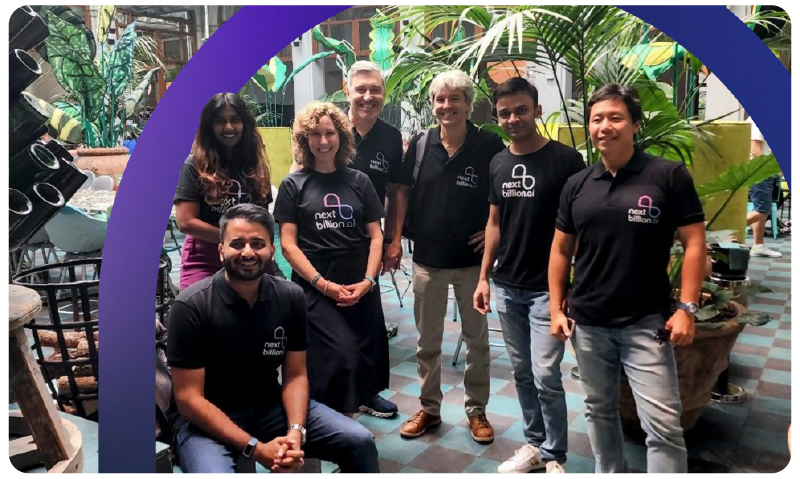 To say it has been a BUSY year for the team would be an understatement. In addition to the NextBillion.ai-branded events, we traveled to different corners of the world for events and conferences across the globe, such as SaaStr, State of the Map and Home Delivery World.
Our committed focus on CX paid off
NextBillion.ai was awarded Technology Pioneer of 2022 by the World Economic Forum. We earned the top spot on the Top AI Startups In India 2022 and Top Southeast Asia Machine Learning Startups lists.
Our high customer satisfaction scores earned us G2 High Performer badges in the Route Planning, Location Intelligence and GIS categories. We also bagged the Quality Choice Award and Happiest Users Award from Crozdesk.
One of the biggest highlights of this year was NextBillion.ai's co-founders — Ajay Bulusu and Gaurav Bubna — getting featured on Fortune India's 2022 40 under 40 list.
NextBillion.ai was also recognized as one of the best workplaces across all business verticals in Singapore!
We celebrated our wins with the team
All the major milestones we hit in 2022 wouldn't have been possible without our globally distributed teams.
We took the time to appreciate and thank them for their hard work and dedication at our global town hall meetings. We celebrated our employees' work anniversaries and raised a toast to our achievements at our annual off-site gathering.
Areas where we successfully pivoted
You can't disrupt an established geospatial space — the way we did with our decentralized and software-first approach — without taking any wrong turns.
Focusing on innovation very intensely in the first two years turned out to be the wrong move for an early-stage start-up like us. Innovation is great (and highly encouraged), but not at the expense of choking your product and sales pipelines.
We reworked our product strategy in 2022 and adapted the 'innovative imitation' approach. We built upon the tried-and-tested techniques, added personalized layers, set high quality standards, enhanced our product capabilities with the help of our partner network and deployed tactics to ensure customer success.
This year we also realized the need to pivot our market expansion strategy. The plan to focus on multiple geographies at once led to a few challenges because of the distinct sales cycles and buying behaviors. All our energies are now focused on a couple of large markets, barring organic sales growth through our demand generation channels.
What's coming next
Looking ahead to the rest of the year and beyond, NextBillion.ai is well positioned to continue its growth and success.
We made substantial progress in areas such as customer lifecycle management, customer success and customer support. We'll invest deeper into these departments and eliminate all friction points from the customer journeys in 2023.
We'll be releasing a whole gamut of products designed for enterprises of all sizes to solve navigation, trucking, routing use cases. Our calendars are filled with events, panel discussions and webinars that we'll be hosting and attending in the coming year.
We'll continue to solve all kinds of location and mobility problems, irrespective of geography, business vertical and company size.
Here's to an exciting year ahead!
Watch our 2022 Year in Review video: