In the second quarter of 2023, our product lineup expanded significantly with the introduction of four remarkable additions. We introduced the iOS Navigation SDK, a new Optimization API — Clustering and two Places APIs — Multi Geocoding and Geocode Postcode.
We added a new feature to our Geofence API and improved the capabilities of our customer portal — NextBillion.ai Cloud Console.
Discover how these advancements can help your company optimize operations and bridge performance gaps.
TL; DR
iOS Navigation SDK: Advanced navigation capabilities for iOS applications.
Clustering API: Bundle orders, locations or jobs based on specific constraints.
Multi Geocoding API: Efficient management of custom locations and tailored search results.
Geocode Postcode API: Accurate geolocation data retrieval for shipping and logistics.
New Geofence API Feature: Creation of isochrone-based geofences.
Customer Portal Updates: Usage-based budget alerts, product dashboard page and more
ChainTech Virtual Demo Day session video: Demos of NextBillion.ai's products.
Q3 Preview: Live Tracking API, Route Optimization feature updates and more.
New Products
iOS Navigation SDK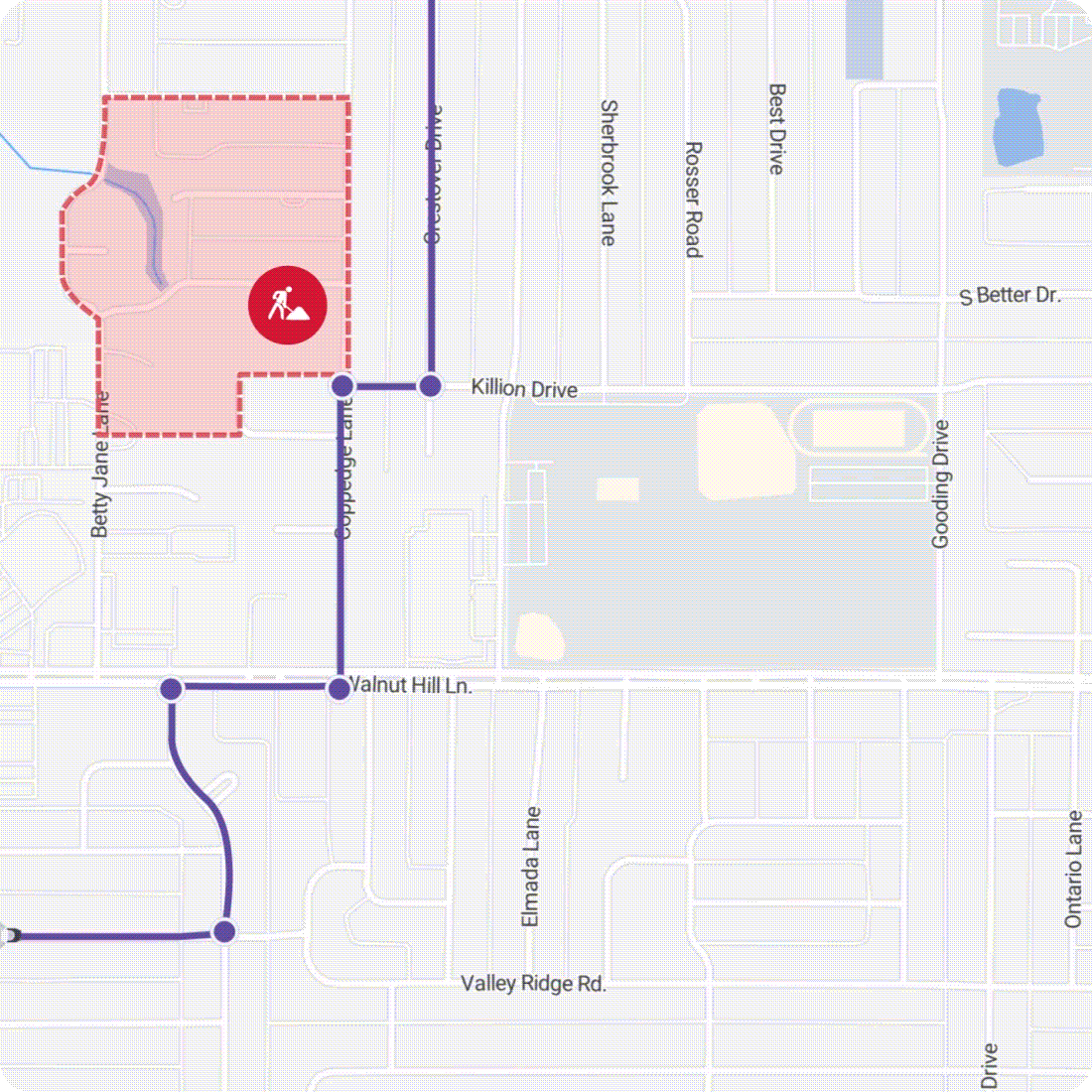 Introducing the Navigation SDK for iOS. This powerful tool enables developers to supercharge their applications by combining advanced navigation capabilities with the NextBillion.ai Directions API.
Designed for a variety of applications, including ride-sharing, delivery and fitness apps, the SDK delivers a superior user experience.
You can:
Determine the most feasible routes between origin and destination, considering driving mode and restrictions.
Provide accurate and precise turn-by-turn directions.
Incorporate real-time traffic updates and suggest alternative routes.
Offer clear and concise voice-guided navigation.
Detect when a user goes off-route, and reroute while navigating.
Create intuitive interfaces with support for custom map styles, interactive maps and pre-made UI components.
Ensure uninterrupted navigation even with limited network connectivity.
Business Benefits:
Significantly enhance customer satisfaction and experience by reducing the chances of users getting lost or encountering navigation issues.
Reduce travel time by allowing users to avoid traffic congestion, navigate unexpected road conditions and reach their destinations faster.
Save time and reduce fuel consumption by calculating the most efficient paths.
Improve user engagement and safety with accurate and timely turn instructions
Help users avoid wrong turns, road closures, or other unexpected obstacles by detecting route deviations and rerouting.
Deliver a user-friendly navigation experience with easy-to-understand-and- interact navigation UI.
Provide a reliable navigation experience to users in areas with weak or no network coverage.
Take a closer look at NextBillion.ai's iOS Navigation SDK documentation to gain a comprehensive understanding of its capabilities.
Clustering API
Our Clustering API is a versatile solution that benefits a wide range of industries, including delivery companies, logistics, supply chains, ride-hailing services, retail operations and more. It offers businesses the capability to bundle orders or jobs based on user-defined constraints.
By employing advanced clustering techniques, the API selects geo-locations within each cluster, reducing the travel time and distance required for service.
With the ability to seamlessly integrate with existing systems, the NextBillion.ai Clustering API enables businesses to optimize logistics, attain faster delivery times and elevate customer satisfaction.
You can:
Group orders, locations or jobs based on specific constraints.
Leverage automatic central location detection feature.
Configure routing, cost objectives and constraint parameters to meet specific clustering requirements.
Business Benefits
Maximize resource utilization and improve territory planning.
Minimize the distance or duration required for delivery or service completion.
Save time and effort by eliminating the need to select a central location manually.
Define the most efficient job clusters, considering factors such as distance, traffic conditions, vehicle type and specific transportation modes.
Prioritize specific cost-related factors in the clustering process.
Access NextBillion.ai's Clustering API documentation. 
Multi Geocoding API
NextBillion.ai's Multi Geocoding API allows you to find geo-coordinates and addresses of points of interest (POIs) from multiple data sources. With it, you can efficiently manage custom locations to tailor search results to your business needs.
The API generates combined results from default and custom datasets for comprehensive searches and overrides default search results for the same or similar places. It enhances the utility and accuracy of location search results in your applications with ease.
You can:
Add, create or build your own custom dataset of locations.
Search known places from default and custom datasets.
Fetch previously created custom places.
Update the attributes of existing places/addresses.
Delete previously created addresses.
Business Benefits
Improve the accuracy and completeness of location search outcomes.
Ensure that relevant and unique points of interest are included.
Enhance the relevance and visibility of preferred places in search outcomes.
Stay in command of your location data maintenance and make timely updates whenever needed.
Explore the documentation for a deeper understanding of NextBillion.ai's Multi Geocoding API.
Geocode Postcode API
Another game-changer in our 2023 Quarter 2 product lineup was the Geocode Postcode API.  It is a geolocation tool that allows companies to retrieve geographical coordinates and boundaries for postal or ZIP codes.
With its broad applications across diverse domains, the API has emerged as an invaluable asset for businesses looking to enhance accuracy and optimize processes related to shipping, logistics and location-based services.
You can:
Fetch the geographical coordinates and boundaries of a postal code or ZIP code.
Use location coordinates to retrieve the corresponding postal code.
Business Benefits
Boost shipping and delivery processes by leveraging accurate geolocation data.
Achieve faster deliveries by optimizing routes based on accurate postal code information.
Provide users with personalized recommendations and relevant information based on their geographical location.
Save time and resources by automating the retrieval of postal codes.
Dive into the details of NextBillion.ai's Geocode Postcode API documentation.
Product Updates
Isochrone-Based Geofences
We added a new feature to our Geofence API that allows users to create isochrone-based geofences. This feature allows users to easily draw geofences around specific locations based on driving time or distance. The new update opens up a range of possibilities for efficient planning, optimization and analysis of geospatial data.
You can:
Draw geofences based on driving time or distance.
Set the departure time to account for different traffic conditions.
Fine-tune the contours to specify the boundaries for the geofences.
Add relevant metadata and tags to the geofences.
Benefits:
Create precise geofences and define boundaries that reflect realistic travel time and distances.
Generate reliable travel time estimates and substantially increase ETA accuracy.
Easily manage, classify, search, filter and retrieve your geofences.
Create geofences that align with specific business requirements, such as service areas, delivery zones or proximity-based marketing strategies.
You can read all about the update in the Geofence API documentation.
Customer Portal Updates
Budget and Usage Alerts
With this new budget management feature, customers can ensure optimal control over their expenses.
You can:
Set predefined spending limits.
Receive instant notifications when budget thresholds are exceeded.
Give access to team members for budget alerts.
Take proactive actions based on your usage patterns.
Product Library and Playground Pages
In Q2, we integrated our product catalog and the interactive playground tool into the NextBillion.ai Cloud Console. Users can browse, explore, and try out our APIs.
Customer Support via Cloud Console
We streamlined customer support by adding the ability to raise support tickets and contact our support team directly through our customer portal. This eliminates the need for users to navigate through separate documentation links, forms or emails for assistance.
Most Popular Resource
Our co-founder, Gaurav Bubna, presented immersive demos at the Global Supply Chain Council's (GSCC) ChainTech Virtual Demo Day in May 2023. The session had demos of Route Optimization, Live Tracking [we'll cover this product in detail in the next product roundup; stay tuned!] and Geofence APIs.
Watch it today to gain valuable insights on NextBillion.ai's cutting-edge solutions.
Q3 2023 Preview
NextBillion.ai is gearing up to unveil a host of exciting products, features and enhancements in Q3. Here's a sneak peek:
Live Tracking API that will help you create, search track and monitor assets.
Exciting new features, like maximum waiting time constraint, are being added to the Route Optimization API.
Stay tuned as we redefine possibilities and bring you the latest advancements in location technology solutions.