John, (name changed to maintain confidentiality), starts his day with a large Dunkin' Donuts latte and a series of stretching exercises. As a UPS driver delivering last-mile delivery packages, the coffee and exercise help him prepare for the long day ahead. Unfortunately, for last-mile delivery drivers, like John, their long days got longer when the pandemic hit.
Last-mile delivery accounts for 53% of shipping costs and is the most inefficient part of the supply chain. The pandemic caused a 20% rise in consumer e-commerce deliveries in 2020, which has burdened the already-laggard last-mile delivery operations even further. As businesses rise to the challenge of delivering to customers' doorsteps, there are a few obstacles that they need to overcome.
We have listed the five last-mile challenges that lead to supply chain disruptions and how NextBillion.ai's map data solutions can help mitigate these challenges.
1. Unpredictability of estimating arrivals in last-mile delivery
91% of consumers say that a positive customer service experience makes them more likely to make another purchase. Customers expect to know where their package is at all times and when it is going to reach them. Delivery delays hurt the brand experience, increase customer churn and affect the bottom line.
Road and traffic conditions, warehouse congestion, and inaccurate routes can affect a package's expected time of arrival (ETA). While Google Maps works well for consumers, enterprises need a level of sophistication that platforms like NextBillion.ai provide to reduce cancellations and customer churn.
2. Inefficient route planning
Route planning is a critical aspect of last-mile delivery that converts to cost and time savings. Getting it wrong leads to delayed deliveries and higher costs. 71% of last-mile drivers spend between 4 to 10+ minutes trying to find the exact drop-off location. And over 95% of drivers have faced problems with inaccurate mapping, leading to an estimated $2.6 billion increase in costs annually.
Manual route planning takes hours, if not days, to get right. Not to forget, it is not scalable. Therefore, enterprises are switching to AI-powered route optimization solutions that can compute efficient routes in less than a minute.
3. Volatility in transit
Even the most thorough last-mile delivery plans can be disrupted by the unpredictability of unloading or detention time at ports, custom delays, highway closures, accidents, adverse weather conditions, and more. When every second counts, a simple flat tire can have a snowballing effect on a tight schedule.
Platforms, like NextBillion.ai, enable easy rerouting, and dynamic navigation and tracking using real-time data. This goes a long way in helping logistic managers identify when a contingency plan needs to be deployed.
4. Skyrocketing last-mile delivery costs
Last-mile delivery accounts for more than half of the shipping costs and that number is steadily rising. From escalating fuel prices to fleet management costs, delivery is an expensive business. In addition, losses stemming from failed or delayed deliveries and multiple delivery attempts put a strain on the already tight margins.
Logistic managers are turning to enterprise-centric location technology solutions to help keep the costs down and improve delivery times.
5. Lack of fleet visibility
Visibility at the final stage of delivery is critical for businesses. To avoid or communicate any deviation in the promised ETA and delivery promise, companies require up-to-date and accurate tracking information. But with little to no access to enterprise-grade map data, fleet visibility and tracking is considered as one of the major pain points.
Enterprise map platforms like NextBillion.ai fill that gap by leveraging public and proprietary data to provide better fleet visibility and valuable insights about asset utilization.
How NextBillion.ai can help you solve these challenges?
NextBillion.ai's last-mile delivery solution can help your business tackle the above-mentioned challenges. Here's how you can improve the unit economics and gross margins of your business with better map data and AI!
Get accurate ETAs — no limitations, no restrictions
Last-mile delivery is a high API volume use case. Work with NextBillion.ai's scalable Distance Matrix and Directions APIs that can generate accurate and optimized ETAs at any scale, for any use case, and for any vehicle type. Our customizable APIs come with multi-country support, AI and ML-backed prediction engines, and a high degree of scalability — a set of features that other mapping solution providers don't offer to enterprises.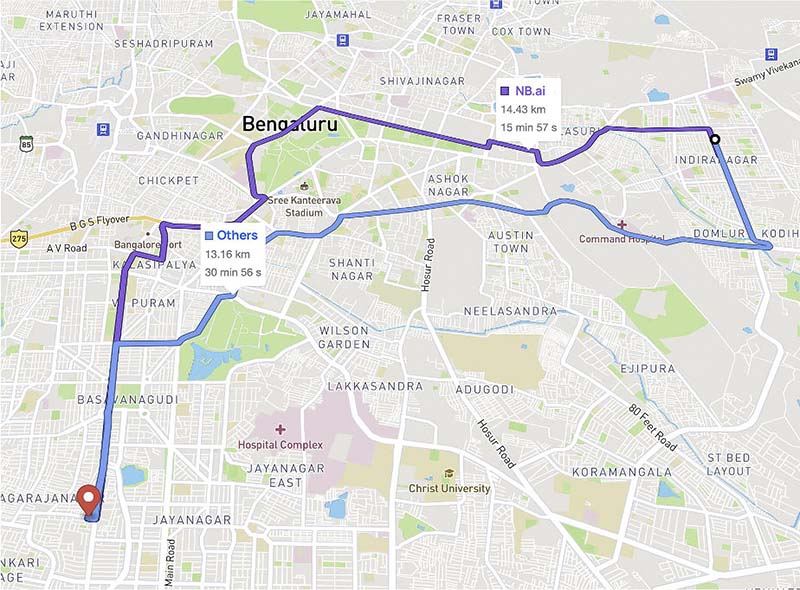 NextBillion.ai Distance Matrix API VS Other Distance Matrix APIs
Improve delivery performance with detailed apartment maps
We build detailed apartments, parking lots and gated communities' maps with granular custom map data for enterprises like this global food delivery company. These maps include useful information such as entrances for a specific vehicle type, complex apartment/condo layout, safe parking spaces and more. With accurate POIs and pick-up/drop-off locations, businesses can maximize delivery efficiency and reduce failed deliveries.
A gated community's detailed granular map created by NextBillion.ai
Optimize the delivery and pick-up experience with POI and address validation
NextBillion.ai's AI-powered Geocoding and Search APIs deliver high location accuracy, even with incomplete and unstructured addresses. This enables businesses to improve order delivery and fulfillment efficiency, and reduce RTOs.
NextBillion.ai's Geocoding API converts incomplete addresses into accurate addresses
You can also improve the pick-up and drop-off experience by leveraging your historical data as well as telemetry data to validate POIs and addresses. We use GPS data probes to detect the actual entry/exit points of a location to ensure the drivers and delivery agents don't waste time in finding the exact entry/exit gate.
NextBillion.ai can detect accurate entry/exit points by analyzing GPS probe data
Enable dynamic route planning with custom mapping tools
Insert real-time constraints, such as local regulations and travel restrictions, to enable better route optimization. You can not only take real-time road and traffic conditions into consideration while planning routes but also account for temporary/sudden restrictions — such as road closure — with our custom Road Restriction tool.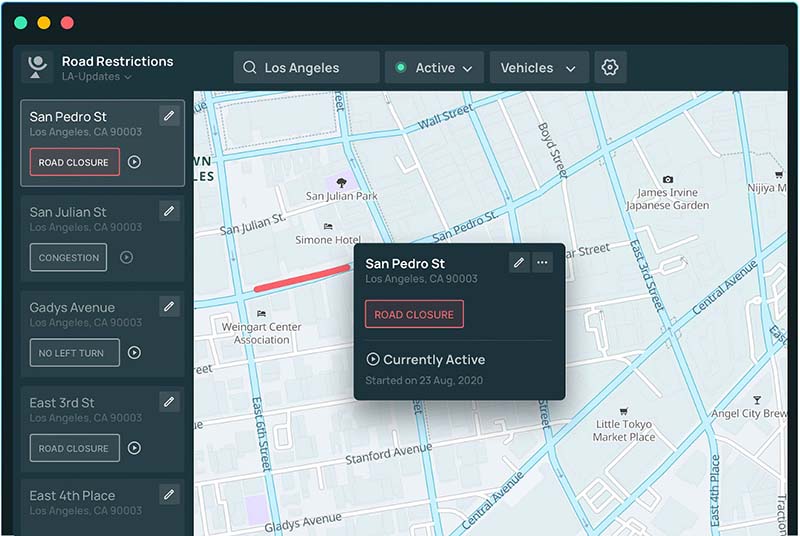 NextBillion.ai's Road Restrictions tool for precise route planning
Increase cost savings with on-premise and multi-cloud deployment
With our flexible cloud-agnostic and on-premise deployment, businesses have achieved as high as 40% cost savings! Get support for up to 40x higher throughput and 3x-7x lower latency with unlimited API calls. Compared to the alternatives, NextBillion.ai's APIs are 40x more scalable and 60% less cheap.
| Number of elements per Month | | Google Maps |
| --- | --- | --- |
| 1 to 100K | $1.80 | $5.0 |
| 100K to 500K | $1.50 | $4.0 |
| 500K to 1M | $1.20 | – |
| 1M to 5M | $0.90 | – |
| 5M to 10M | $0.75 | – |
NextBillion.ai API vs Google Maps API
Enhance fleet location tracking capabilities with customizable APIs and map data
Improve fleet visibility and enable efficient asset and vehicle tracking with NextBillion.ai's forward and reverse geocoding APIs. We also assist enterprises in inserting geofencing, speed limit data and custom attributes into their maps for better asset tracking. Get access to AI-powered custom and up-to-date map data by integrating third-party data and your proprietary internal data to unlock valuable insights about driver behavior, route optimization and dispatch.
NextBillion.ai's Geocoding API offers better fleet visibility
Not so long ago, last-mile delivery was one of the many cogs in the supply chain wheel. Today, however, in the age of on-demand culture and lightning-fast fulfillment promises, positive unit economics is intrinsically linked to getting the last-mile delivery right.
If you want to improve route planning, increase asset utilization and reduce cost per delivery – last-mile to last-yard, get in touch with us!
Lower fuel costs
by up to 20%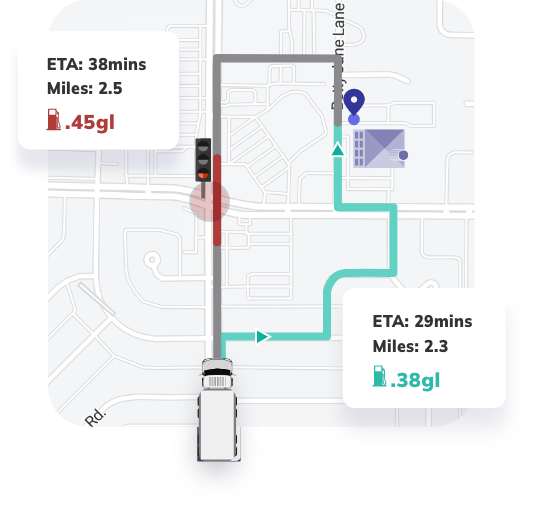 Ready to up your game in scheduling, dispatch, and routing?
Request a Demo