Geospatial and location-based technologies are transforming businesses across the world! However, as businesses continue to develop their own innovative use cases, they find it harder to rely on location-based-service providers for solutions that cater to their unique requirements. As a result, many businesses are moving toward building and managing their own map stacks that run on proprietary and custom data.
This trend is now common across most industries; custom geospatial and mapping technologies are more in demand than central mapping platforms. For businesses looking to build, operate and manage their own mapping stacks, there's nothing more assuring than having a dedicated support team of mapping experts to help lay the groundwork of the mapping stack, integrate new solutions and iron out any kinks in the process. This is exactly what NextBillion.ai's GIS support team provides for its customers with unique mapping challenges — right from simple API tool evaluation and exploring performance gains all the way through to achieving scale and expansion! 
Here are four ways in which NextBillion.ai's GIS support team helps businesses cater to unique use cases: 
1. Evaluating tools for custom mapping stacks
Any implementation of new or untested technology needs to go through an evaluatory period. For most businesses beginning the transition to a custom-made stack, the first challenge is to assess how much of an impact a new API would have. This impact is measured in two ways: operational performance and business growth.
One of our customers, a tech-driven coffee chain, had a similar challenge when evaluating our APIs. From the outset, we knew an independent, unmonitored evaluation process could cause issues, errors and other unforeseen obstacles. To counter this, we allocated a dedicated support team to help them through each phase of their evaluation process.
During this evaluation period, the customer was able to test NextBillion.ai's APIs with their existing map stack and data. With our team there to facilitate the process, the evaluation was frictionless, and the results extremely positive! Once the customer gave the nod, our support team fully integrated our APIs into their existing map stack for production.
The company grew from just one store in 2019 to 130+ stores in 2022. Since the beginning of our engagement, we've been aiding their exponential growth with NextBillion.ai's large Distance Matrix API. With our help, the customer was able to drastically reduce delivery times and operational costs, and effectively plan their expansion over the coming months. 
To learn more on how we enabled this coffee chain to increase the cost-efficiency of their operations, check out our case study.
2. Achieving benefits beyond the original scope of work
Every evaluation period is essentially a proof of concept assessment. Most companies have fixed objectives against which the evaluation is carried out, but with the right GIS support team, additional benefits can also be identified and implemented!
Let's take a look at one of NextBillion.ai's last-mile delivery customers. At the beginning of their evaluation period with us, the customer was just looking to lower costs with our Distance Matrix API. But they ended up achieving much more than that! 
With the guidance and expertise of NextBillion.ai's GIS support team, the company was able to not only validate operational cost savings, but towards the end of the evaluation, also understand the other performance gains that would be made possible by NextBillion.ai's large Distance Matrix API. 
Thus, through insights generated from NextBillion.ai's Distance Matrix API and custom map data, our GIS support team was able to help the customer reduce operational latency and costs by almost 50%, while also improving ETA accuracy and operational throughput. 
To learn more about how NextBillion.ai enabled a seamless integration experience for a last-mile delivery company, read our case study.
3. Support in scaling up operations
When it comes to scaling up operations to meet customer demands that are constantly evolving, businesses may need to leverage custom map APIs that offer the flexibility and customizability to expand into new geographies. Most centralized mapping platforms offer a standard set of data around routes and traffic, but businesses need custom solutions that generate detailed and relevant hyper-local insights like optimized routes, visibility into newly constructed roads, live traffic data, road permissions for each vehicle profile, etc.   
Another of our customers, an India-based food and beverage discounting platform, faced such a challenge and required a large distance matrix API to handle huge volumes of delivery requests. While the customer's pilot program involved optimizing their existing operations for just one city, they had plans to expand operations into others. 
NextBillion.ai's cost-effective Distance Matrix API was able to reduce the customer's operating costs by over 60% and substantially improve their unit economics, which, in turn, helped them fast track their expansion plans. As part of the next phase of expansion, NextBillion.ai's team provided data and support that enabled capabilities like vehicle-specific routing, accurate navigation and visibility into unplanned road closures, etc in target cities. Along with this, NextBillion.ai's GIS support team helped the client kickstart their expansion and resolve any performance issues associated with starting operations in a new location. 
To learn more about how NextBillion.ai managed all of this, read the case study.
4. Implementing custom features
Effective logistics and last-mile delivery planning is often highly dependent on the number of variables taken into account, like traffic, road closures, vehicle types, driver shift timings, etc. However, the variables at play can differ greatly from company to company; that's where a robust technical support team is essential — helping businesses customize their solutions to factor in these unique variables when planning and scaling operations.
For instance, a ride-sharing service provider approached NextBillion.ai to help them scale operations. On evaluating NextBillion.ai's capabilities with their existing map stack, the customer found that our solutions were able to handle a large number of API calls. More importantly, our solution's ability to accurately mark custom pick-up and drop-off points helped lower fuel costs and also improve their overall customer experience by reducing trip times. The customer is now actively testing another custom feature using NextBillion.ai's Navigation SDK, which addresses the pain point of enabling polylines as an input. 
To know more on this ongoing engagement with our ride-sharing customer, check out our case study.
Leveraging custom map APIs has now become the new norm, with businesses finding that it takes multiple APIs to solve unique use cases. In such instances, a robust technical support team, like NextBillion.ai's, can help businesses define what their strategy should be, evaluate new APIs, and build or integrate new APIs into existing stacks. Not all businesses can handle this transition from a major mapping platform to a self-reliant, independent mapping ecosystem that's tuned for only solving the customer's unique requirements. That's exactly why NextBillion.ai's GIS support team helps all customers evaluate, implement and explore new possibilities with NextBillion.ai's custom APIs and SDKs.
To learn more about how NextBillion.ai has been supporting businesses across the globe, visit our case study page!
Lower fuel costs
by up to 20%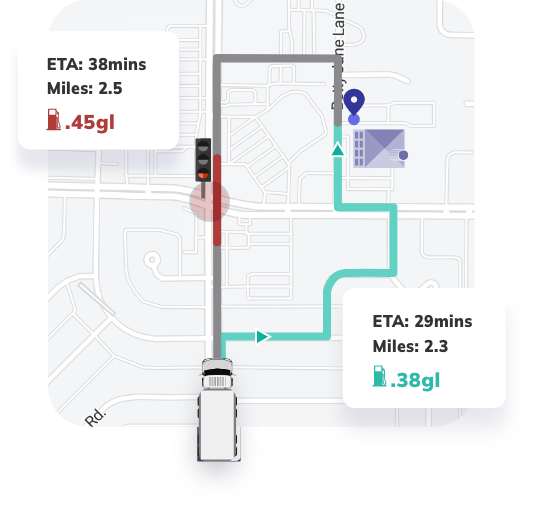 Ready to up your game in scheduling, dispatch, and routing?
Request a Demo