Quick question: Out of the three options listed below, which one, according to you, is the most fundamental element that an on-demand delivery business needs to succeed?
Flawless mobile app UX
Large delivery fleet
Innovative mapping technology
If you didn't pick 'innovative mapping technology', let us tell you why that should have been your answer.
The role of maps in on-demand delivery
The absolute truth is that maps are at the front and center of an on-demand delivery business.
If we consider just the end-user experience, every stage of the delivery flow is driven by maps — right from when the user opens the app to place an order until they close the app once the order is successfully delivered. Getting this right is imperative for building credibility, brand equity and customer loyalty.
On the other side of the app are delivery riders and drivers. How efficiently they can fulfill the orders also relies HEAVILY on maps. After all, they spend nearly 80% of their time navigating.
At the back end, maps fuel operations. It is the on-demand delivery company's mapping technology that efficiently runs the business (or derails it, if the performance is poor) — be it order assignment, order batching, dispatch, ETA calculations, route planning, route optimization or delivery cost optimization.
The mapping service also influences decision making. It impacts the scale of the business, geographical expansion, use cases, product/service portfolio and many other such key business decisions.
4 deal breakers when selecting a mapping platform
We have established that maps are critical to the majority of core features and capabilities that on-demand delivery businesses rely on.
But not all mapping providers can or are willing to support these features. Traditional maps are not designed to enable modern and global enterprise use cases.
For instance, the geographies that these businesses operate in have changed drastically over the last few years with the emergence of the hyperlocal economy. Riders and drivers have to navigate through back alleys, slope roads and narrow side streets. And traditional maps don't reflect these road attributes.
In order to deliver a great experience to your users and delivery partners, along with driving cost and performance efficiency, the mapping platform has to be chosen carefully.
In the long run, front-end business activities would fail to generate sustainable profits if the back end is relying on a mapping platform that has restrictive policies and features limitations.
Here are the four deal breakers to watch out for when choosing a mapping provider:
1. Small matrix size
The matrix size determines the scale at which your business can operate. For an on-demand delivery business, or any mobility-driven business for that matter, the bigger the matrix size, the better.
The standard matrix size that conventional mapping providers' distance matrix APIs support is 25×25. It essentially means these APIs can calculate ETAs and distances between a maximum of 25 origins and 25 destinations in a single call. This matrix size is far too small when you are fulfilling 600 orders per minute!
A scaling hyper-local delivery business needs a distance matrix API that can accommodate high volumes of API calls and multiple drop-off points.
2. Inflexible cloud infrastructure
High-volume, high-complexity and time-critical tasks like route optimization require low latency and high throughput. And your solution's cloud infrastructure plays a crucial role here, as it impacts latency and throughput.
Mapping services with cloud-native infrastructure can be fairly inflexible. Integrating solutions that are designed for specific cloud platforms can sometimes mean working with outdated technology, slow deployment and update release cycles, and downtimes.
This is something that an on-demand delivery business can't afford. A downtime of even 15 minutes can result in huge losses. So restrictive cloud infrastructure is a big no-no.
3. High platform dependencies
If you have to jump through hoops to make critical adjustments to your map stack or troubleshoot an issue, then that mapping provider is not the right match for your enterprise.
Whether the adjustment is due to a huge surge in demand, real-time traffic changes or other reasons, you don't want to rely on a rigid third-party service to maintain uptime.
4. Lack of customizability
This is one of the biggest deal breakers, since maps and location intelligence sits at the core of growth and development.
The operational needs of an on-demand delivery business vary depending on what is getting transported, where and in how much time. For example, the mapping needs of a hyper-local courier/package delivery service (Uber Connect) will be different from those of a food delivery service (DoorDash).
Generic APIs give generic outputs, as they can't be tailored to business use cases, vehicle types, traffic regulations, geographical locations and routing conditions.
NextBillion.ai's route optimization solution is the deal maker
NextBillion.ai is the first enterprise-grade mapping platform that truly understands the impact of maps on delivery operations' efficiency, scale, unit economics and profitability.
Our proprietary route optimization solution ranks higher than the competition in terms of performance, cost, customization and flexibility.
Here's why:
Customization: No one does customization better than us. Our APIs can enable unique use cases by accounting for a wide range of vehicle types, routing preferences, geographical nuances, driver behavior, traffic laws, environmental regulations and other such attributes.
Multi-cloud on-prem deployment: We are cloud agnostic and offer on-prem deployment. This enables our customers to achieve lower latency and higher throughput. It also ensures our customers' data is always protected and they have more control over their data and performance.
Large matrix size: The matrix size we support is huge! Our large Distance Matrix API can support matrices of up to 5000×5000 elements.
Flexible pricing: Besides being cost effective, our pricing options are also flexible and customizable.
Dedicated support: Our customer support is accessible, prioritizes troubleshooting issues and offers real-time assistance.
In addition to the points mentioned above, we can also leverage a company's proprietary location data — both current and historical — to build private map layers and custom APIs exclusively optimized for its specific business use cases.
We have combined the capabilities of our proprietary AI-powered Route Optimization API and Distance Matrix API to develop a sophisticated 'Vehicle Routing Problem Solver' solution. This enables end-to-end route optimization for multiple drop-off points — a feature that can transform your on-demand delivery business.
From computing the fastest routes between multiple drop-off points to adding unplanned stops to existing delivery routes, NextBillion.ai's route optimization solution is intuitive, accurate and precise.
Visit our Route Optimization API page to find more information about this solution.
Lower fuel costs
by up to 20%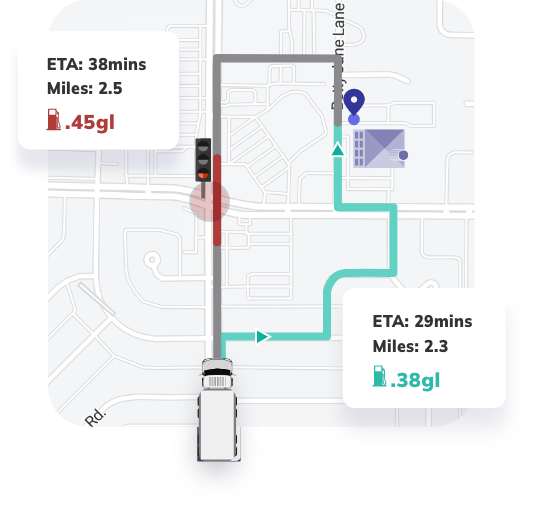 Ready to up your game in scheduling, dispatch, and routing?
Request a Demo