The idea of contactless delivery is not a new one. It even predates COVID-19, so it's not a product of the pandemic. What the pandemic did do, though, is make contactless delivery a virtually universally adopted standard — until lockdown restrictions and safety regulations eased, at least.
In the time since, many businesses have chosen to retain contactless delivery as an option available to their customers, despite it no longer being a regulatory necessity. This will prove to be a wise decision, as the demand for contactless delivery still persists.
Although some continue to identify and utilize it as a safety measure, a large segment of customers now see it as a convenience. After all, with contactless deliveries, there's no pressure for them to disrupt their plans just to be available for the delivery; they don't even have to be anywhere in the vicinity!
The benefits of contactless delivery aren't all for the customer, though. Your business stands to gain a lot from it, too.
Business benefits of contactless delivery
1. Eliminate missed deliveries
Missed deliveries are more than just an inconvenience for last-mile delivery companies. The cost of missed deliveries can add up to be quite significant in terms of time, effort and money. Contactless delivery solves this problem by allowing customers to receive their packages without the need for any physical contact with the delivery driver. Deliveries can be completed regardless of the customer's presence or absence.
2. Quicker, more efficient deliveries
There's much scope for delays in standard delivery. Sometimes, the customer will be slow to answer the door. Or maybe they have to search for a pen for the signature. Perhaps there's a crying baby to tend to before they can accept the delivery. Whatever the case, the price is paid in efficiency. With contactless deliveries, the driver just needs to drop the package at the designated location, upload digital proof of delivery and move on to the next stop on their route. It offers flexibility to your customers while letting you complete more deliveries quicker.

3. Digital payments only
Businesses often favor digital payments over cash on delivery due to the reduced risk of fraudulent orders. Contactless delivery eliminates cash payment as an option, as delivery personnel are unable to accept physical cash or card payments from customers. This shift towards digital payments benefits your business by enabling it to receive instant payments to its account and removing the complexity and risk of handling physical cash.

4. Process visibility and automation
It's not just payments that become digital with contactless deliveries — signatures, proof of delivery and other paperwork do, too. No more hours spent sorting, analyzing, searching and waiting for paperwork. The digitization of your entire delivery process means that everything is just a few clicks away, and you get a real-time birds-eye view of your operation. It also makes automation a possibility. And with the visibility you now have, you can identify where and how to streamline your processes and implement automation.

Speaking of implementation…
How to implement contactless delivery effectively
Now that (some of) the business benefits of contactless delivery have been established, the next natural step is to cover some things you'll need to keep in mind in order to set up your process successfully. Let's get straight to it.
1. Make it clear that contactless delivery is an option
It sounds obvious, but if you don't tell your customers that you offer contactless delivery, they're not going to know. Just putting a checkbox option on your checkout page won't do. You need to hammer it home by reinforcing the messaging on your website homepage, app, product pages, menus, packaging, etc.
Inform customers about exactly how their contactless delivery will work, including where their package will be placed and how they'll be notified of its arrival. Let them know how they'll be able to get in touch with the driver if needed. Clearly communicated information goes a long way in reducing order anxiety, so tell your customers everything they'll want to know about ordering from your business. There's a lot of work that goes into setting up a contactless delivery operation. Make sure your customers utilize it.
2. Keep customers in the loop
As we just touched upon, information helps combat order anxiety. That isn't limited to just before the order is placed, though. In fact, order anxiety can be higher after the order is placed. How many times have you caught yourself refreshing the order status or tracking screen far too often?
Send order update notifications via app, email and/or SMS to keep your customers in the loop. Enabling communication between the customer and delivery driver is also important, not just to keep customers informed, but to receive information from them, which can help keep the delivery process smooth and efficient.
Upon completion of the delivery, it's critical that you inform the customer immediately, so they can pick up the package as soon as possible. This is not just about preserving the quality of perishable items; it also helps address the growing risk of package theft, or porch piracy.
3. Live tracking is your friend
On a related note, live tracking of your drivers and their routes is closely tied to keeping your customers informed about their orders. Keeping them in the know minimizes the number of calls your support team will have to field, helping keep that cost and workload in check. But customers aren't the only ones who get something out of live tracking; it can be hugely beneficial to your business directly as well.
By making use of an accurate tracking solution like NextBillion.ai's, you'll have access to always-updated, precise ETAs for every delivery to be made. This helps you in that you and your team will always have deep visibility into your ongoing operations, and can act on current information at any given moment. You can even set up geofences to automate push notifications that update customers based on driver location.

4. Digital proof of delivery is a must-have
Without a physical handoff of the delivered package, and especially considering that customers often aren't even present at the address to receive the package, proof of delivery is even more important in contactless deliveries than in standard deliveries. It serves as a deterrent against fraud, as well as minimizes your business's exposure to risk in case of a lost or stolen package.
Needless to say, since the process is meant to be contactless, digital proof of delivery is the way to go. Most often, this will be in the form of a photo of the delivered package at the customer's doorstep (or other designated location), along with the time and date of delivery.

5. Digital ID verification and signatures may be needed
If you're delivering certain restricted items like pharmaceuticals, liquor, cannabis, etc., your drivers will be required to verify the customer's age and identity. To make this possible for a contactless delivery, you'll need to implement a solution that can enable digital ID verification. With that in place, your customer simply needs to upload an image of a valid ID card for verification.
Similarly, delivery of these types of items also often requires that drivers take the customer's signature. This can also be applicable for some high-value items. For such cases, you'll need to have a contactless signature solution in place. With that done, customers can upload their signatures online ahead of time, and you can verify these signatures before the delivery is even made.
It may have been COVID-19 that thrust contactless delivery into the spotlight, but now it's standing on its own two legs. Safety was the order of the day, but now it's convenience that rules the roost. Whatever the reason may be, contactless delivery has made its mark and it's here to stay. The sooner you get it right, the sooner you'll reap its benefits: faster deliveries, lower costs and happier customers. So, what are you waiting for?
Schedule a call with our team to learn more about how NextBillion.ai's can help you get the most out of your last-mile delivery operation.
Lower fuel costs
by up to 20%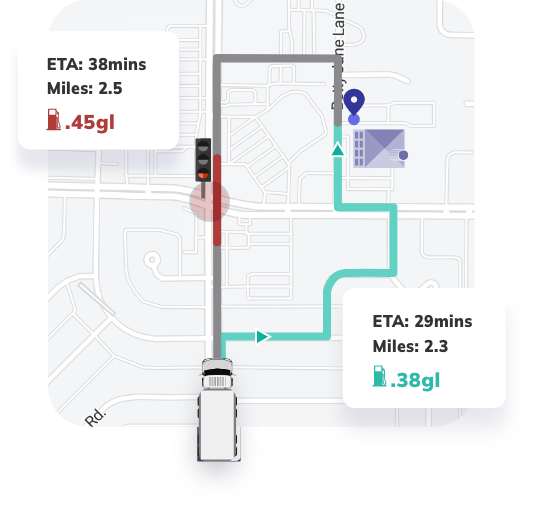 Ready to up your game in scheduling, dispatch, and routing?
Request a Demo