We have some exciting news to share!
We're pleased to announce that NextBillion.ai has raised $21 million in a Series B funding round led by global investment firm Mirae Asset Capital.
This solidifies our position as one of the fastest-growing names in the location and geospatial SaaS platform space. It will extend our company's existing commitment to offer customizable mapping solutions tailored to enterprises' unique needs and help them scale effectively.
The humble beginnings
Back in 2020, when Gaurav Bubna, Shaolin Zheng and I started out, all we had was a pitch deck that illustrated the big problem with maps we were trying to solve. We were trying to disrupt an established industry that was dominated by giants who had decades-long head starts.


But this was a challenge we were ready to face. To be honest, we were more than ready and raring to go.
What we had not planned for was the COVID-19 pandemic that hit the world just a few weeks after we started. Nearly every country enforced a lockdown. This created a much bigger problem.
Here's how.
Most enterprises had not experienced the business benefits of working with a mapping platform that caters to their unique requirements. They didn't know that managing their own maps on a large scale was a real possibility. And features like on-premise deployment, multi-tenant cloud architecture and custom map layers were unheard of. This is why gaining the trust of our potential customers with the borders shut across the globe was one of the biggest challenges we faced.
But with the support of our excellent investors, advisors, team and customers who have been with us from day zero, we quickly adapted our business to the new reality.
A little over two years later, we have grown into a diverse team that's working from across 7 countries. Currently, we support customers across 20 countries and have helped enterprises manage billions of API calls with low latency. We have disrupted the mapping world with our decentralized and software-first approach. And we feel we've barely scratched the surface.
Major milestones
In our first year, we focused on developing, launching and testing our products and solutions. In 2021, we cracked the product-market fit and built a solid global team.
Before we share what we've planned for 2022, here are some of the other major milestones we hit in the last two years, split across three spheres:
Market traction
Registered 10x growth in customer base and 5x growth in revenue
Worked with global category leaders in mobility, ride-hailing, e-commerce, logistics, food delivery and grocery
Launched our new website and new brand identity
Product growth

Released the most popular mapping APIs — Directions and Distance Matrix, Snap to Road, Search and Geocoding, and MapTiles — that are not only on par with competitors, but better
Launched flagship map tools such as Mergical and Road Restriction
Enabled unique use cases such as custom routing for electric scooters to ensure regulatory compliance across numerous cities with differing rules
Announced strategic partnerships with technology platforms Locus, Otonomo, Locale.ai, Dista.ai and RouteQ
Awards and accolades
Received the prestigious IMDA's SG:D (Singapore Digital) Spark accreditation
Bagged major industry awards from Select USA, APICTA, Fast Company, Fortune India, Slingshot, SG:D Techblazer, Globee and WITSA
Earned multiple badges from SaaS user review platforms such as FinancesOnline and Crozdesk
Hosted meaningful conversations under the 'Spatial Insider' webinar series with industry leaders from Uber, deCarta, Swiggy, IKEA, and MapTiler
2022 and beyond – What's next
With this latest round of funding, we intend to fuel our expansion efforts — be it customers, products, partners or teams.
It will help us expand our product portfolio, build inventive map tools, invest deeper into R&D activities and diversify our partner ecosystem. And we are excited to have Mirae Asset, FounderBank Capital and CSVE Ventures as our new partners on this journey of disruptive innovation.
We plan to:
Build a best-in-class customer experience
The technical competence of our support team and account managers has been one of our biggest service differentiators. As we continue to accelerate our business development activities and expand our global footprint, improving customer experience is priority number one for us. We will keep empowering the customer-facing teams with better tools, infrastructure, processes and training. This will enable them to fulfill our customers' personalization requests and solve complex technical challenges for them.
Speed up innovation
Our map tools — Mergical and Road Restriction — are already solving complex mobility and logistics use cases for businesses around the world. We plan to develop and release improved forms of popular mapping APIs and SDKs, along with a new set of innovative tools to enable unserved and underserved business use cases. Our product team is already working on a few interesting navigation, route optimization and custom routing products — all designed to enable movement even more efficiently.
Create a wider impact with new partnerships
We truly believe that to solve a complex problem like location, you need technology partners that share the same core values. Going forward, NextBillion.ai will continue to build synergies with companies that help us solve problems, enable unique use cases and build products that deliver value to our customers.
Expand the geospatial and location-tech community
Talking to industry experts and meeting the mapping community at events, panels and webinars have been some of the most fulfilling experiences for the entire team. We, the self-proclaimed map nerds, want to nurture this even more. Besides hosting and launching more webinar episodes of the Spatial Insider series, we plan to engage with the community via interactive projects, social media channels, competitions, roundtable discussions and strategic collaborations.
We're just getting started!
Our key focus areas tie into our vision for maps and how map data should be consumed, analyzed and managed by businesses. With every customer, project and new launch, we inch closer to the dream of building a self-sustainable location ecosystem for every enterprise.
Our APIs and SDKs have a proven track record of unlocking the greater potential within existing map stacks. And we believe that by solving age-old problems in mapping technology, we're helping businesses unlock new opportunities for themselves and their customers.
We are ready for the exciting road ahead. Here's to mapping the next billion miles!
Ajay Bulusu
Co-Founder
Lower fuel costs
by up to 20%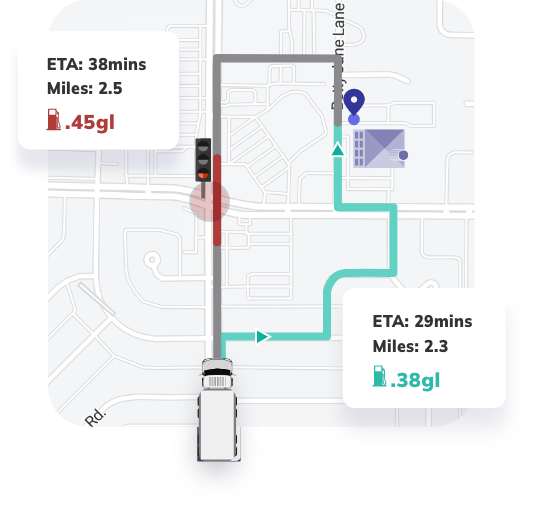 Ready to up your game in scheduling, dispatch, and routing?
Request a Demo