Across multiple industries, field force agents have been empowered with a set of tools and technologies that enable them to optimize productivity, improve communication and enhance safety. Some of these industries include construction services, telecommunications, ONGC, delivery services, agriculture, utility and environmental services like waste management. 
With mobility-based technologies driving the field agent workforce, the benefits at play are numerous and significant. Field agents who have access to the right technology report:
Increased productivity –

They work more efficiently and effectively, completing tasks quicker and with fewer errors.

Improved communication –

They communicate with team members and supervisors more easily and effectively, even when in remote or hard-to-reach locations.

Enhanced safety –

They stay safe while they work, by taking precautions such as using safety equipment or sending out emergency alerts if they become injured or lost.

Better customer service –

They provide better customer service, for instance, by using mobile devices to access customer information and job status updates any time, anywhere.

Cost savings –

They minimize costs by using location-based technology to optimize routes and schedules, or using sensor data to identify and troubleshoot problems more quickly.

More effective navigation

– They use GPS technology to navigate to their job sites quickly and ensure that they're in the correct location.

Closer asset tracking

– They use geospatial technology to track the locations of equipment and vehicles, helping them better manage their resources.

Deeper data collection

– They use location-based technologies to collect data, such as GPS coordinates and sensor readings, which can then be used to create detailed maps and models of the areas they work in.
Challenges facing field service agents:
As a natural consequence of empowering field agents as described above, the companies that do so set themselves up to become increasingly competitive in the market, working more efficiently and effectively, and providing better customer service.
However, when it comes to traversing complex streets or crowded cities, there are multiple challenges that continue to pose issues for field service agents: 
Navigating intricate and dynamic environments –

Cities can be complex and dynamic environments, with many different types of roads, buildings and landmarks. This can make it difficult for field agents to find their way around and navigate to their job sites.

Dealing with traffic congestion –

Heavy traffic can cause delays and make it difficult for field agents to reach their job sites on time.

Limited access to real-time information –

Field agents may not have access to real-time data on traffic, road closures and other information that could help them navigate more efficiently.

Poor visibility into parking availability –

Finding a parking spot in the city can be a difficult, frustrating and time-consuming process, which adds to the challenges of navigation within a city.

Inconsistent or inaccurate information –

Field agents may not have access to accurate and up-to-date information about city developments, new constructions, etc., which can make it difficult for them to navigate efficiently.

Identifying pedestrian- and bike-friendly streets –

Some cities have implemented policies that make it difficult for vehicles to traverse certain streets, prioritizing pedestrians and cyclists instead. This can make it harder for field agents to reach job sites or make deliveries.
How can NextBillion.ai empower field service agents
NextBillion.ai offers a suite of mobility solutions that cater to multiple industries. To empower field forces with the next generation of location-based technologies, NextBillion.ai provides the following tools:
NextBillion.ai's solutions provide functionalities that streamline field force efficiency:
Custom map POIs –

Simplify complex navigation between streets and buildings

Dispatch and route planning –

Use live location, traffic and route data to maximize coverage and minimize cost

Accurate ETAs –

Improve ETA accuracy and get customized routes and predictions for every vehicle type, from e-scooters and motorbikes to EVs, cars and trucks
More power to teams managing field agents
Enabling field service agents with customizable, highly performant technologies goes beyond efficient operations and cost savings. NextBillion.ai's solutions provide more options for businesses to interact with and engage their customers, and fulfill customer commitments on time. 
Here's a rundown on how NextBillion.ai's solutions can enhance various aspects of field service operations:
Improve asset utilization, coverage and task completion – NextBillion.ai's solutions help dispatch teams to efficiently utilize assets to their full potential and give every customer the best possible service by automating order assignment and dispatch of field technicians to specific tasks and routes.
Build customer trust and optimize operations with transparency – Dispatch teams can also track the status of driver locations and timelines, and retrace routes taken with full telemetry. Provide accurate ETAs to customers, accurate routes to assets on ground and better turn-by-turn visibility to operations teams.
Prioritize scheduling, assignment and dynamic rerouting of multiple assets – NextBillion.ai offers automated order assignment, routing and dispatch. Optimal routes are generated to maximize visits completed and minimize costs. Aside from area of service, factor in parameters like skills, shift timings, service capacity, service windows, etc.
Provide in-app navigation that incorporates custom road restrictions – NextBillion.ai's Navigation SDK delivers a seamless in-app turn-by-turn navigation experience. It works in conjunction with our Route Editing Tool, enabling custom restrictions and closures based on vehicle types, road access permissions, date and time restrictions, road space rationing schemes and other rules.
Reconstruct routes taken and calculate mileage-based payouts – Snap GPS signals to the underlying road networks with precision to trace routes taken and determine mileage accurately. Quickly and easily calculate reimbursements for field visits using post-trip route analysis to avoid confusion and dispute. 
Schedule a call
with our team to learn more about how NextBillion.ai's solutions can help you improve operational efficiency and drive productivity of your field services.
Lower fuel costs
by up to 20%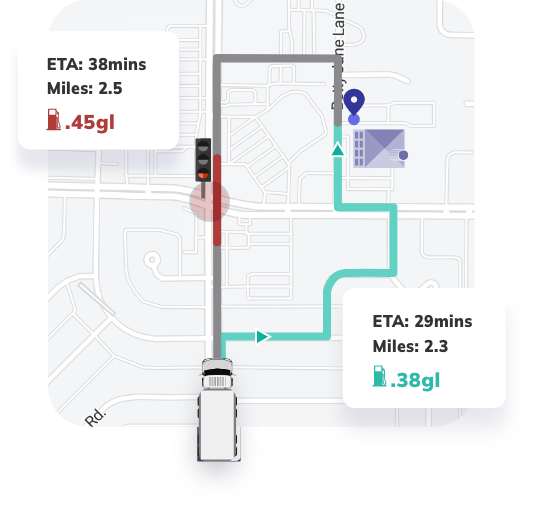 Ready to up your game in scheduling, dispatch, and routing?
Request a Demo