Have you ever been on your way to an important meeting, social event, appointment or to catch a flight when you suddenly come across an unexpected road closure? Yes? Then you know all too well how quickly it can ruin your day.
For fleet operators providing services like mobility and logistics, though, the consequences can be even more dire. Just a minute's delay could incur significantly heavy losses — and that's only the beginning of the problems.
Some of the biggest challenges faced globally in last-mile delivery include addressing last-minute changes to drop locations, aligning with warehouse operations, minimizing rebounds, cutting logistics costs, and executing on-time deliveries. One of the causes for these problems is that a company's real-time or predictive traffic feed may not always account for all regional restrictions and obstructions, which are typically imposed at the provincial level as a result of temporary, pre-planned road work or festive occasions.
NextBillion.ai's Road Editor Tool solves this problem by enabling logistics teams to accurately reflect road closures, restrictions, speed limits and permits in their routing and navigation APIs.
Fleet operators can make use of the Road Editor Tool to update the underlying road network data to reflect upcoming or recurrent restrictions based on vehicle types, permissions, time of day and numerous other variables as applicable.
Features of NextBillion.ai's Road Editor Tool
NextBillion.ai's Road Editor Tool Comes with a wide range of features that allow enterprises to achieve compliance with road safety and traffic regulations, as well as maximize asset utilization with reliable, customized, accurate routing. Let's take a look at some of what it can do:
1. Road Closures
Operators can optimize route planning for fleets and real-time navigation for drivers by marking closed roads as needed. The Road Editor Tool provides options to apply road closures during certain times of the day/week, at specified recurring frequencies and/or for specific vehicle types (cars, trucks, motorbikes, etc.), enabling businesses to accurately reflect local road networks and their rules. This will help improve operations such as deliveries, passenger pickup, drop-off, etc.
For instance, assume there's construction activity going on at Fairway Drive, California, on weekdays. Fleet operators can mark this with the Road Editor Tool to customize routing and navigation for their operations. Once done, all fleet vehicles would be instructed to avoid the area from Monday to Friday, and continue operating as usual on Saturday and Sunday.
2. Turn Restrictions
The Road Editor Tool lets users optimize navigation algorithms for local turn restrictions and customize as needed from one region to another. This enables safe and accurate real-time navigation that reflects regional turn restrictions as appropriate.
In some cases, turns are legally permitted by road rules, but perhaps due to the size of the vehicle and physical nature of the road (sharp turn on a narrow road, u-turns, etc.), operators might prefer to prohibit these turns and have the drivers take an alternate path to the destination. The turn restrictions feature makes this a possibility.
3. No-Parking Zones
The Road Editor Tool lets operators designate no-parking zones. Once marked, the navigation system will let drivers pass through no-parking zones on their routes, but will not allow them to either start or end trips inside these zones.
4. Maximum Speeds and Fixed Speeds
These features let operators set maximum and fixed speed limits on any given road.
As you might expect, maximum speed is the highest speed at which drivers will be allowed to ply the road — often, but not alway the posted speed limit.
Fixed speed, on the other hand, is the speed that's taken into account by the routing engine to provide accurate ETAs. This would be the average speed of vehicles (or a specific type of vehicle) on the road.
5. Geofences
The geofence feature is one of the highlights of the Road Editor Tool. It allows you to select an area on the map and mark all roads within it as closed, with options for additional attributes like specific vehicle types for which the restrictions apply, duration of closure, time of day, etc. Geofence selection can also be used to apply custom turn restrictions and other road attributes.
Let's illustrate this feature with an example. Take the highlighted area in the above image as a geofence that you created with NextBillion.ai's Road Editor Tool. This geofence encloses a school that runs on weekdays from 8 AM to 3 PM. The city council enforces a restriction that prevents public and commercial vehicles from operating in the vicinity for an hour before the school's opening and an hour after closing time.
As an enterprise that runs commercial vehicles in the region, you can simply mark all roads within the geofence as 'closed' during the stipulated times. This will customize your fleet's routes as per the restriction, helping save your company lots of time, money and trouble with the law.
6. Permissions
This feature of the Road Editor Tool accommodates special permissions that have been granted by relevant authorities. There are certain zones in every city, or special road permissions that are not made available to the general public. However, some emergency services and government organizations will have access, and navigation for their vehicles can be customized to reflect this through the permissions feature.
With that quick rundown of NextBillion.ai's Road Editing Tool, it's easy to see how it lets users manage uncertainty and optimize fleet operations in real time. It helps generate accurate ETAs, optimize order sequences and minimize delivery delays by accounting for real-time road restrictions based on day of the week, time of day, vehicle type and other nuances. The tool also serves to hasten response times of emergency services, where every second counts.
Lower fuel costs
by up to 20%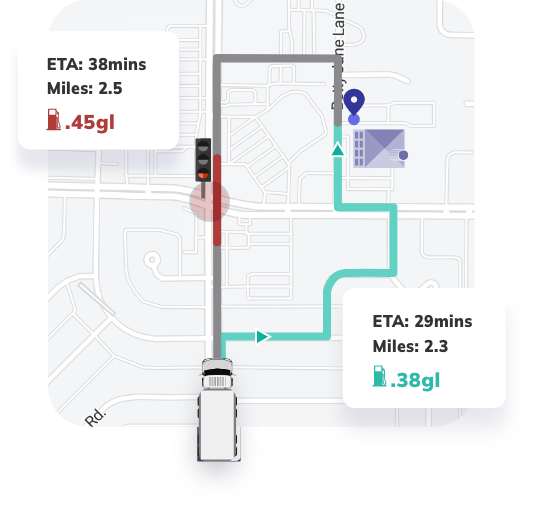 Ready to up your game in scheduling, dispatch, and routing?
Request a Demo