We're proud to announce that NextBillion.ai is now listed on the Azure Marketplace, a premier destination for cloud-based software and services from Microsoft. This marks a milestone for us and is a testament to the hard work and dedication of our team.
The Azure Marketplace is a one-stop shop for cloud apps and services built by Microsoft and its partners, including some of the world's leading technology companies. Its purpose is to enable customers to easily discover, try, and buy the solutions they need to power their businesses. By listing NextBillion.ai's solutions on the marketplace, we can reach a larger customer base and provide them with the tools they need to optimize their operations and drive growth.
For our customers, this means they can now access our solutions directly through the Azure Marketplace, streamlining the process of acquiring and deploying our technology. They can also take advantage of the scalability and flexibility of Azure's cloud-based platform, which provides the resources needed to support high-volume, data-intensive workloads.
For NextBillion.ai, listing on the Azure Marketplace is a strategic move that aligns with our mission to democratize AI-driven location technology and make it accessible to businesses of all sizes. We believe that AI has the power to transform industries and drive innovation, and we are committed to helping our customers unlock its full potential.
"Being listed on the Azure Marketplace is an achievement we're proud of," said NextBillion.ai Co-Founder Ajay Bulusu. "It's a further step in the right direction for us as a company. It gives us access to a much wider audience, and we're excited about the possibility of bringing value through our solutions to even more customers."
NextBillion.ai's presence on the Azure Marketplace opens up new opportunities for us and our customers alike. We are excited about the potential this partnership holds and look forward to continuing to deliver cutting-edge AI-powered solutions to businesses around the world.
Lower fuel costs
by up to 20%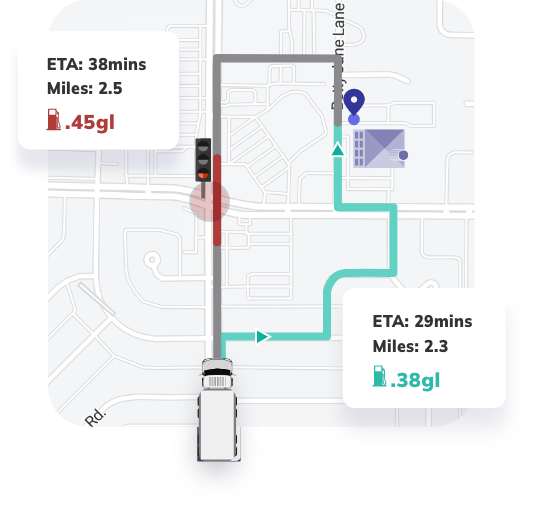 Ready to up your game in scheduling, dispatch, and routing?
Request a Demo