In today's world, convenience is king in almost every aspect — and the product delivery is no exception. With same- and next-day delivery has become the norm, customers now also expect the option of choosing a delivery window of their convenience. For businesses, giving customers a choice of delivery window can enhance customer satisfaction and drive business growth, granting a competitive advantage. So, how would you go about doing this? Let's dive right in.

Understand customer preferences
It's crucial to understand your customers' preferences. Conducting surveys or analyzing operational data can help you identify their preferred delivery windows and the factors that influence their choices. Consider factors such as location, time of day and day of the week when conducting your analysis.
NextBillion.ai's location technology solutions can help you collect data on customer preferences, such as peak delivery times or preferred delivery days, by tracking delivery locations and times. You can also use geofencing to gather data on the locations that your customers frequent the most, which can inform your delivery window options. With live tracking software, you can identify common delivery routes and use this information to optimize delivery schedules. All of this can help you adjust your delivery schedules to make convenient delivery windows available during busy periods or on specific days of the week.
Offer flexible delivery options
Providing multiple delivery windows to customers is one of the most effective ways to offer convenience. Rescheduling or changing delivery windows should also be an option for customers facing unexpected changes in their schedule or delivery preferences. 
NextBillion.ai's real-time dispatch and tracking solutions enable you to provide this kind of flexibility with dynamic delivery schedules that can be adjusted on the fly. For example, if a customer requests a change in the delivery window, you can use real-time dispatch to immediately update the delivery schedule and notify the driver of the new delivery window.
Furthermore, data analysis can identify common reasons why customers may request a change in the delivery window. By addressing the root issues, you can proactively adjust your delivery schedules to minimize the need for changes or rescheduling.
Optimize route planning and scheduling
NextBillion.ai's route optimization software uses advanced algorithms to calculate the most efficient delivery routes at any given time based on factors such as traffic, road conditions, road closures, and much more. This allows you to minimize delivery times and maximize the number of deliveries you can make in a single trip, opening slots for more deliveries to be made in during high-demand windows. The fact that it also helps cut delivery costs is not to be overlooked.  
Another essential factor in optimizing route planning and scheduling is prioritizing deliveries based on location and urgency. Via analysis of customer location and preference data, you can group deliveries by location and prioritize them based on their urgency. Live tracking software enables you to track drivers in real-time and monitor their progress, making it possible to adjust delivery schedules on the fly, redirect drivers to more urgent deliveries and provide customers with up-to-date ETAs.
NextBillion.ai's geofencing capabilities can help you identify customer locations and optimize delivery schedules accordingly. For example, you could use geofencing to set up virtual boundaries around specific areas, such as busy shopping centers or office buildings, and prioritize deliveries to those areas during peak delivery times.
Communicate with customers
Effective communication is critical when it comes to providing convenient delivery windows. By keeping customers informed of the delivery schedule and any unforeseen changes, you reduce the likelihood of delayed or missed deliveries, resulting in higher customer satisfaction.
One way to keep customers in the loop is through notifications or updates. NextBillion.ai's real-time dispatch and live tracking software can automatically send notifications to customers via SMS or email, informing them of their delivery window and any changes to the schedule.
Live tracking information is of huge importance to customers. NextBillion.ai's live tracking software can be used to relay such information to them in real time, including the driver's location, ETA and any potential delays. This is especially beneficial for customers who may be busy during the delivery window. By tracking the driver's progress, they can plan to be present for the delivery or make alternative arrangements.
Giving customers a communication channel — online chat, customer service hotline, contact form, etc. — to contact you with questions or concerns can enhance their overall delivery experience. By responding promptly to customer inquiries and concerns, you can improve the customer experience, build trust and loyalty, and potentially gain repeat business.
Offer incentives
Encourage customers to choose less busy delivery windows; this can help you optimize your delivery operations and reduce costs.
One way to incentivize customers is through discounts or free shipping. For instance, you could provide a discount or free shipping for deliveries scheduled during non-peak hours or on certain days of the week.
Another option is to provide exclusive delivery windows to loyal/premium customers. Offer priority delivery windows to customers who've made a certain number of purchases or have been subscribed to your service for a certain period, for example. This, in turn, could drive even more customer loyalty.
Incentives are also excellent for increasing customer engagement and participation. You could run a promotion wherein customers can earn points or rewards for choosing certain delivery windows, perhaps through a loyalty program or social media contest.
Continuously improve delivery services
Improvement never goes out of fashion. Analyze delivery data and customer feedback to identify areas of improvement and make the necessary changes for optimization of your delivery operations.
NextBillion.ai's route optimization and live tracking software provide detailed data on delivery times, driver performance, route efficiency and more. Use this data to uncover issues like delivery times that consistently fall outside the estimated windows, routes that require optimization and drivers that may need additional training.
Customer feedback can help identify new features or services in pursuit of providing even more convenient delivery windows. For instance, feedback might indicate that customers want additional delivery options, such as contactless delivery or in-home installation, or to choose specific delivery times, like early morning or late night.
By continuously analyzing delivery data, incorporating customer feedback, and identifying areas of improvement, you can optimize your delivery operations and provide even more convenient delivery windows to customers.
In today's business environment, offering convenient delivery windows is crucial for those looking to meet customer expectations and remain competitive. It's easier said than done, but the pointers covered above will serve as a strong base to start with. From there, you'll be well on your way to providing a seamless and convenient delivery experience for your customers, ultimately driving business growth and enhancing customer satisfaction.
Lower fuel costs
by up to 20%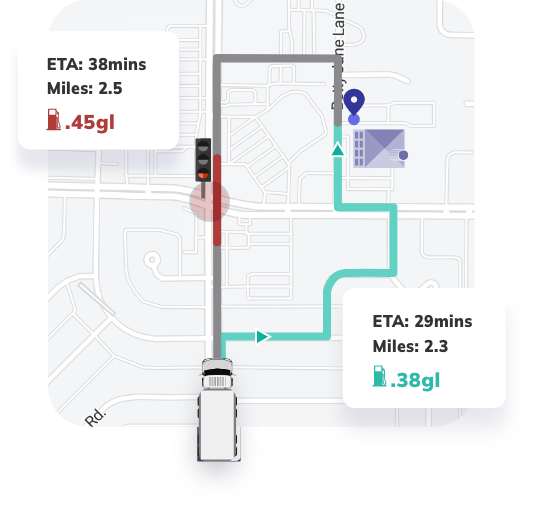 Ready to up your game in scheduling, dispatch, and routing?
Request a Demo