Simplifying the Complexities of Middle Mile Logistics
Multi Resource
Handling
Multiple vehicle handling with varied dimensions and attributes simultaneously.
Scalability &
Customization
Add custom attributes like payload, permits, time windows, and restrictions.
Integration with
Telematics
Integrate with Samsara and other leading ERPs like MS Dynamics, Oracle Netsuite.
Sustainable & Eco-friendly
Routing
Keep resource cost and consumption in check for a healthy bottom line & low environmental impact.
Optimize Distribution & Middle Mile Logistics
Advanced Routing Algorithms to Plan Distribution Network Connections
Advanced routing algorithms for unparalleled efficiency in supply chain network planning that is designed for scalability and the demands of modern middle-mile logistics.
Deliver the most profitable routes and schedules
Leverage advanced route optimization, real-time traffic and add business-specific constraints like cold-chain, hazmat, etc to plan the most efficient route schedules and ensure ETA adherence.
Routing and Network Optimization with Predictive Forecasting
Leverage predictive forecasting for efficient route planning and network design. Utilize advanced algorithms and data insights to dynamically adjust routes, anticipate bottlenecks, and meet changing transportation demands. Ensure a consistently optimized transport strategy.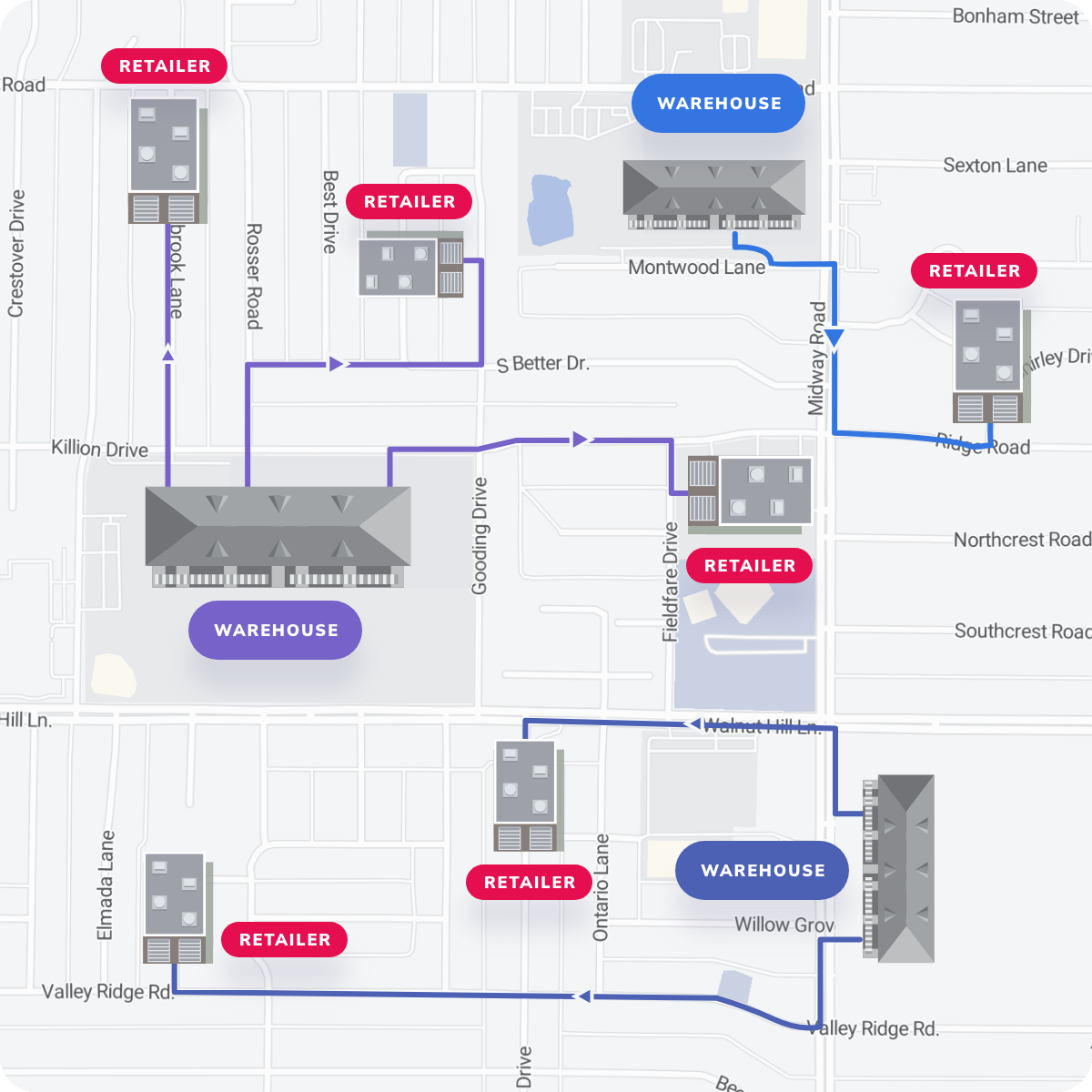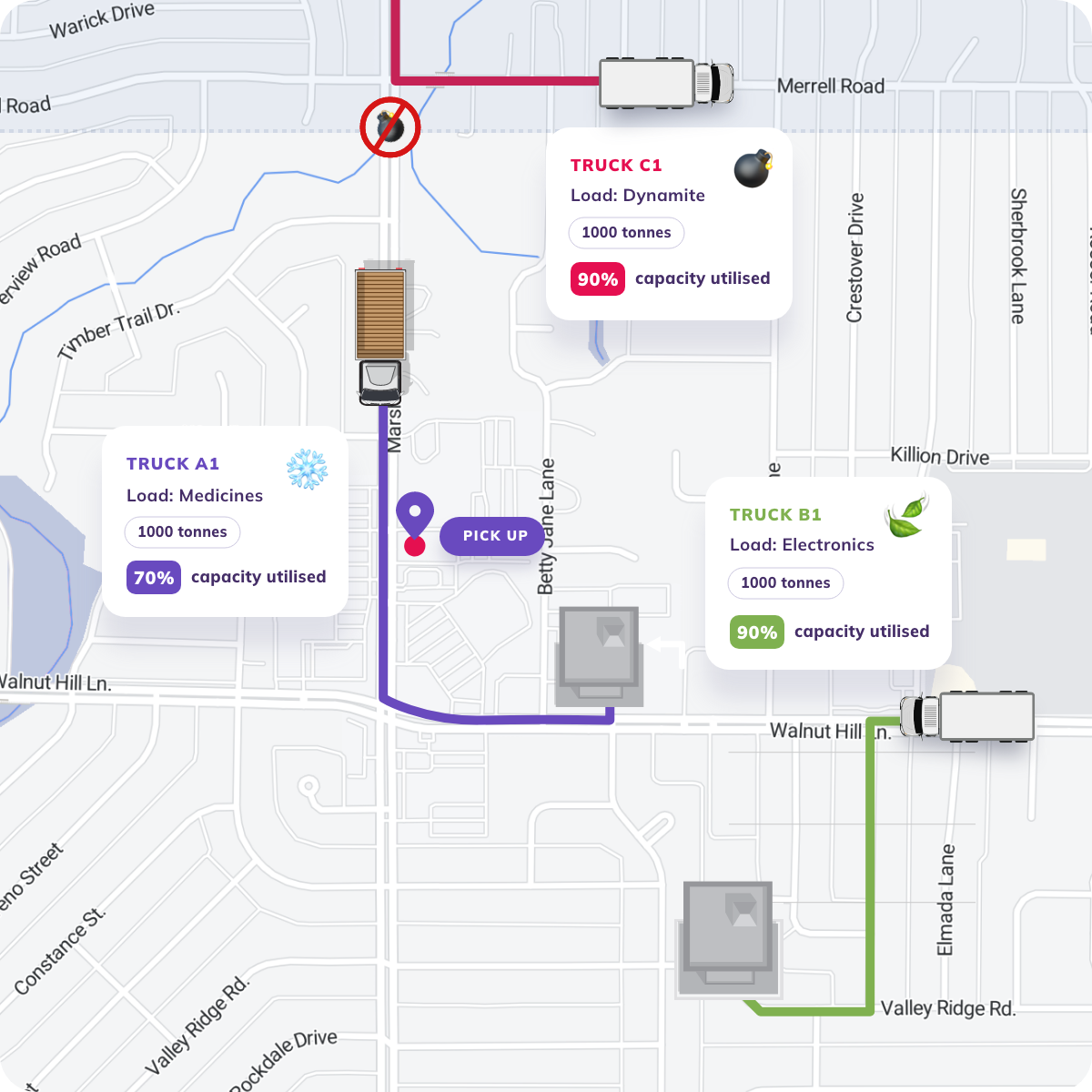 Optimize Capacity Utilization for Enhanced Asset Performance
Ensure smart utilization of vehicle capacity. Both underuse and excessive use can disrupt smooth logistics flow and lead to unwanted hold-ups.
Enhance Total Vehicle Load Efficiency
NextBillion.ai Optimization enables distribution and timing that maximize the use of available space. Allocate consignments considering not just their weight but also the volume constraints of each vehicle.
Minimize Turnaround Duration
Prioritize efficient and shorter pathways based on vehicle profiles and load type to reduce the overall time taken for each journey. Extract the most from your existing assets by managing their operational hours effectively.
Ensure Compliance & Tracking for Total control of In-Transit Operations
Stay updated on the status and whereabouts of every vehicle. Get alerted when your driver speeds up, chooses an alternative path, or faces hold-ups. Avoid higher-risk roads and zones to ensure the safety of goods and drivers.
Monitor Every Logistics Shift in Real-Time
Pinpoint the precise location and current status of all vehicles in motion. Be informed whenever your driver accelerates, opts for a different route, or experiences delays.
Ensure Compliance with State and Local Regulations
Stay compliant by adhering to local and state transportation laws. Easily update road closures and restrictions to reflect changes in routes and navigation, ensuring every journey is within legal parameters.
Pricing that Works for Every Business
Choose a pricing option that's right for your business needs
Asset-based
Pricing based on the number of assets
Usage-based
Pricing based on subscription packs of products and services
Customized
Tailored pricing to meet specific business needs
Seamless Integrations with Top Enterprise Clouds, ERPs and CRMs
Our Customers Love Us
NextBillion.ai solves the problem of providing a high-performance mapping platform at scale. We generate efficient delivery schedules in real time for hundreds of vehicles, so distance calculations need to be fast and reliable. NextBillion.ai's Distance Matrix service meets and exceeds this demand."
NextBillion.ai were quick to integrate with our data set and provide their solution tuned to our data. Ability to tune the eta models for targetted driving profiles with minimal effort is probably the standout experience.

Revolutionize Middle-Mile Logistics with NextBillion.ai's powerful APIs and SDKs
Build Complete Solutions with NextBillion.ai's APIs and SDKs
Route Optimization API
Navigation SDK
Distance Matrix API
Clustering API
Road Editor Tool
Live Tracking API
Snap To Road API
Geofencing API
Trusted by Enterprises and Start-Ups Worldwide


As Seen On